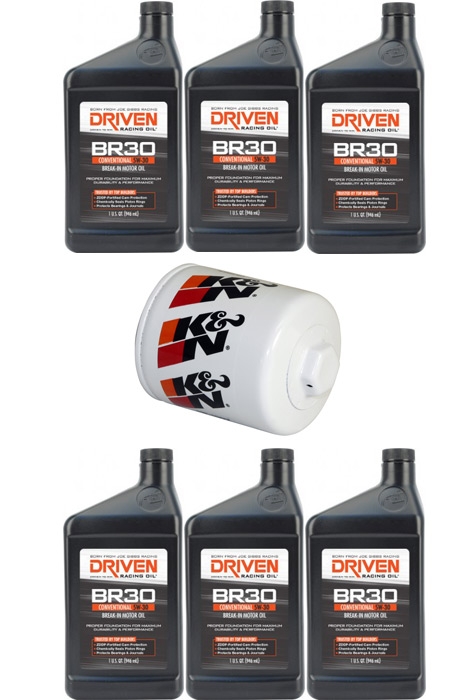 C6 Corvette Break-in Oil and Filter Combo Kit 05-06
Ensure you break in your new or newly built engine properly with this break-in oil combo kit.  Most proffessionals recommend running break in oil for the first 500 miles at a minimum to allow proper seating of the piston rings and creating a proper wear-in of other bearings and internal components.  We recommend break-in oil at 500 miles, then another 750 miles as well.
K&N HP-1007 Oil Filter
Originally developed for demanding race applications, K&N's Premium Wrench-Off Oil Filter has become a favorite among consumers for its durability and easy removal. Most of our automotive and marine oil filters come with a 1 inch nut welded to the top of the canister so they can be easily wrenched-off with a standard tool. To satisfy the demands of racers, our oil filter has many features over and above the requirements of most vehicles. We use thicker canister walls for extra strength and durability which reduces the risk of damage from loose rocks and debris. The drilled hole on the nut provides for safety wire attachment. Our oil filters also use a resin impregnated cellulose filter media. This allows for higher flow rates while providing outstanding filtration.
The Foundation For Maximum Durability and Performance
Driven Engine Break-In Oils are used to dyno and break-in all of the engines at Joe Gibbs Racing. This petroleum based oil has been formulated to supply the highest levels of zinc and phosphorus to the cam and lifters. No additional zinc (ZDDP) additives are required. Driven Engine Break-In Oils provide the maximum protection available during the critical engine break-in period. This oil is ideal for testing and power pulls on the dyno, one night of racing or up to 400 miles on the street!
Features
ZDDP-Fortified Cam Protection
Chemically Seals Piston Rings
Protects Bearings and Journals
6 Quarts of BR30 5W-30 
- The same high zinc and phosphorus formula as the original BR break-in oil, now in a SAE 5W-30 viscosity for tight clearance and/or low temperature break-in. Good for restrictor plate engines, drag race engines, and modern OEM rebuilds. Provides excellent ring sealing. Viscosity typical of 5W-30.
1 K&N HP-1007 Oil Filter